Team Koe

Skip

Kevin Koe

Third

Pat Simmons

Second

Carter Rycroft

Lead

Nolan Thiessen

2013 Canadian Open Grand Slam Champions
2012 Masters of Curling Grand Slam Champions
2012 Tim Horton's Brier Silver Medallists
2012 Alberta Men's Champions
2012 TSN Skins Game Champions
2010 Alberta, Canadian & World Men's Champions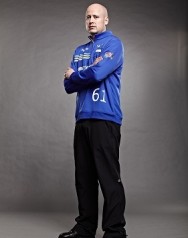 Kevin Koe
Skip
Pat Simmons
Third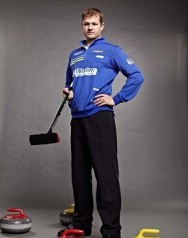 Carter Rycroft
Second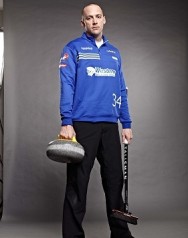 Nolan Thiessen
Lead
Name: Kevin Koe
Birthdate: January 11, 1975
Hometown: Edmonton, AB
Resides: Calgary, AB
Age started curling: 13
Best curling memory: Winning 2010 Brier
Reason you like to curl: Free Amarula Cream in the Brier Patch
Favorite curler (past or present; not including yourself): Ed Werenich
If you could play another sport professionally what would it be?: Indian Leg Wrestling
What is your worst personal habit?: Pulling out my hair
You are down to your last $20, what do you do with it?: Head to the casino
If today is your last day what do you do?: Max out my CapitalOne Mastercard
You can invite 3 people for dinner, who do you invite? Why?: Phil Ivey, Tiger Woods, Britney Spears
Last book you read?: Too Big to Fail
Favorite Celebrity (past or present): Ben Hebert
Favorite Movie: The Hangover
Favorite Drink: Caesar with Skyy Vodka
Favorite Restaurant: The Keg
Who would play you in a movie of your life?: Vin Diesel
If you could be a superhero, which one would you be?: Superman
What are the 5 must have's in your fridge?: Grapes, oranges, skim milk, eggs, Coors Light
Words of wisdom?: What ever you choose to do have fun doing it
Name: Pat Simmons
Birthdate: November 21, 1974
Hometown: Moose Jaw, SK
Resides: Calgary, AB/Moose Jaw, SK
Age started curling: 9ish
Best curling memory: Winning first provincial championship/ being piped for the first time at brier #1
Reason you like to curl: Competition and camaraderie
Favorite curler (past or present; not including yourself): Many favorites
If you could play another sport professionally what would it be?: Golf
What is your worst personal habit?: Being too conservative
You are down to your last $20, what do you do with it?: Work the roulette "system"

If today is your last day what do you do?: Pro-create like crazy
You can invite 3 people for dinner, who do you invite? Why?: Manny Pacquiao, Floyd Mayweather, and Micheal Buffer - just to be a fly on the wall
Last book you read?: Dinosaurs - life size
Favorite Celebrity (past or present): Roger Federer
Favorite Movie: Nacho Libre
Favorite Drink: Rye and coke press
Favorite Restaurant: Olive garden
Who would play you in a movie of your life?: Who couldn't really
If you could be a superhero, which one would you be?: Robin
What are the 5 must have's in your fridge?: Meat, watermelon, cherries, water, coke
At a movie theatre, which armrest is yours?: Left one
Words of wisdom?: Go west young man, go west
Name: Carter Rycroft
Birthdate: August 29, 1977
Hometown: Grande Prairie, AB
Resides: Sherwood Park, AB
Age started curling: 10
Best curling memory: Sweeping final rock of 2010 Brier
Reason you like to curl: I love to compete and I love the friendships in the game
Favorite curler (past or present; not including yourself): Rick Lang and Don Walchuk
If you could play another sport professionally what would it be?: UFC Fighter
What is your worst personal habit?: Chewing Finger nails
You are down to your last $20, what do you do with it?: Invest it in some penny stock
If today is your last day what do you do?: Go fishing with my wife and kids in northern Saskatchewan
You can invite 3 people for dinner, who do you invite? Why?: Jesse James just to learn more about that era as well as the civil war, Milton Friedman father of capitalism love listening to him debate, Pam Anderson you figure it out
Last book you read?: Never eat alone
Favorite Celebrity (past or present): Wayne Gretzky
Favorite Movie: Tombstone
Favorite Drink: Red Wine
Favorite Restaurant: Gulfs in Regina
Who would play you in a movie of your life?: Matt Damon
If you could be a superhero, which one would you be?: Batman
What are the 5 must have's in your fridge?: Steak eggs cheese milk butter
At a movie theatre, which armrest is yours?: Both
Words of wisdom?: Everyone dies not everyone lives
Name: Nolan Thiessen (@nolancurling34)
Birthdate: November 6, 1980
Hometown: Pilot Mound, MB
Resides: Edmonton, AB
Age started curling: 11
Best curling memory: Standing on podium as world champion in Cortina, Italy
Reason you like to curl: Competition and try to win medals for my country, camaraderie of a team
Favorite curler (past or present; not including yourself): Kerry Burtnyk (1995 World Champion in Brandon)
If you could play another sport professionally what would it be?: Starting pitcher in MLB
What is your worst personal habit?: Forgetting to do household chores
You are down to your last $20, what do you do with it?: Order a pizza... might as well go out with the favorites
If today is your last day what do you do?: Go somewhere warm with a beach with my family
You can invite 3 people for dinner, who do you invite? Why?: Nolan Ryan (Got to have a great baseball player at the table), Muhammad Ali (would be able to carry a pretty good conversation), Al Pacino (never hurts to have the godfather at the table)
Last book you read?: "In Fifty Years We'll All be Chicks" - Adam Carolla; currently reading "Choke" by Sian Beilock
Favorite Celebrity (past or present): Will Ferrell
Favorite Movie: Godfather Part 1 & 2, Boondock Saints, Shawshank Redemption, Bull Durham (can't really separate that kind of greatness
Favorite Drink: Amarula and Hot Chocolate
Favorite Restaurant: Olive garden
Who would play you in a movie of your life?: Vince Vaughn
If you could be a superhero, which one would you be?: He-Man Master of the Universe (really doesn't the name say it all?)
What are the 5 must have's in your fridge?: Water, Chocolate Milk, Cheese, Peanut Butter, Coke Zero
At a movie theatre, which armrest is yours?: Whichever side my wife isn't taking
Words of wisdom?: The will to win is important, but the will to prepare is vital / Pressure either bursts pipes or makes diamonds
About Us
Welcome to the new Team Koe Website! Team Koe is four everyday guys grinding it out on the World Curling Tour and on the Championship trail with the ultimate goal of representing Canada at the Sochi 2014 Olympics. This is the year, we've worked hard and made it as a direct entry into the Roar of the Rings Olympic Trials so cheer us on December 1-8, 2013 in Winnipeg where we are going to compete to go to Sochi!
Surfing the Website
Make sure you check out our blog for regular updates and our "shot of the weekend" section after events. Without the support of our corporate partners we could not compete and we really appreciate their support so please check out their stories and see what they can do for you. You can contact us through our blog, Twitter or email and let us know what you think.
TSN All-Star Skins Game
Once again Team Koe needs your votes so that our team is represented at the TSN All-Star Skins Game in Banff in January. Go to http://curlingskins.tsn.ca and vote DAILY for Kevin, Pat, Carter and Nolan! We love and appreciate the support!